I love Easter, probably more than Christmas if I am going to be honest. I love the bright colours and the abundance of activities that can be done. I enjoy the lesser expectation of feeling like you have to meet with every family member and instead, just enjoy sharing delicious food (including good chocolate) with loved ones.
Now I am not one to wish my life away, but this year is even a tad more exciting as Baker Girl will be 2.5 years old and is able to sit at a craft table for more than 3 minutes. She also has a new baby brother whom she adores and enjoys making things for. And so, during nap time, I hit the internet to find my top 10 creative activities that we could all enjoy for Easter
Happy Easter.
Veronica
1. Chalkboard painted eggs
Baker Girl and I thought this sounded like a cracking Easter Activity. I had plenty of chalk board paint left from creating a chalk board table recently so was good to get some more use out of it. It's a simple, fun activity that can be used over and over.
AGE: 2+ for colouring in the eggs. Chalk board paint is fairly toxic and hard to clean up so I suggest an adult paints the eggs beforehand.
You can view the tutorial at www.itsoverflowing.com.
2. Easter egg hunt board game
The Mr Printables website is one of my most used websites for downloading kids activities. There are plenty of creative ideas to keep little ones busy but this Easter game has to be one of their most recent clever creations. Note: Best to get it ready whilst inpatient toddlers aren't hovering and pinching the pieces before you can even say Happy Easter!
AGE: 3+
You can view the tutorial at www.mrprintables.com.
3. Yarn Easter eggs
I think this is a really cute activity for any time of the year. You can make any colour eggs you want, or if you have lots of yarn, try just covering the bottom half of the balloon quite heavily and then you can make little Easter baskets too. There are some beautiful Australian wool yarns out there so let your imagination run wild.
AGE: 2+
You can view the tutorial at www.spoonful.com.
4. Easter bunny ear napkin rings
Speaking of sitting around with loved ones and enjoying delicious food, why not make the table oh-so-cute and extra fun for the little bunnies seated around the table too. These are pretty easy and suitable for all ages to make, with an older person helping with cutting and glueing.
AGE: 2+
You can view the tutorial at www.thecardswedrew.com.
5. Easter carrot treat bags
Don't you just kick yourself when you see such a simple but really clever idea and think – why didn't I think of that?! So easy to make and you could fill it up with anything (orange) really. Makes for a great gift idea for class mates!
AGE: 3+
You can view the tutorial at www.neat2eat.com.au.
6. Bunny ears
I'd be hopping mad if I didn't include bunny ears. These are a fancy version that will require a few special craft supplies but your little one will be leading the pack at the Easter Hat Parade for sure.
AGE: 15+ I am going to say 15 plus to make it as it involves a hot glue gun but of course you can make them for your little bunnies. Unless, of course, you want a pair for yourself.
You can view the tutorial at www.marthastewart.com.
7. Easter pencil toppers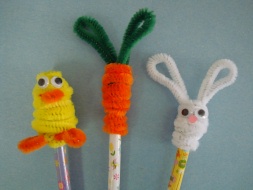 Easter pencil toppers by www.busybeekidscrafts.com
A quick and easy idea to inspire your little one to do some Easter doodling. And if they weren't keen on doodling earlier, this idea will send them into a tail spin.
AGE: 3+ to make, but 2+ to use.
You can view the tutorial at www.busybeekidscrafts.com.
8. Origami Easter box
Origami can be tricky but it's so rewarding when you get it right. I love this idea for a little basket to hold some Easter treats. Use some coloured paper and recycle it once the treats have been devoured!
AGE: 5+ With some help from a bigger person
You can view the tutorial at www.origamispirit.com.
9. Shaving cream painted Easter eggs
It's slimy, messy and perfect for little fingers who love to squelch around and play with colours. A great pre-Easter idea so that you can start making some Easter cards early, or hang them up on a tree. It's a very sweet idea that I am sure will get the Easter Bunny's attention.
AGE: 1+ With some help with the cutting from a bigger person
You can view the tutorial at www.littlewondersdays.blogspot.com.au.
10. Paper Easter cones
Well you need something to put all your eggs in on the big day! Well the little eggs anyway. The post suggests a card stock but scrapbooking paper will also work well for this. Look out for some lovely double-sided papers in your local craft shop. A cheap, easy thing to make and hand out if you plan on hosting an Easter Egg Hunt!
AGE: 3+
You can view the tutorial at www.happyclippings.com.